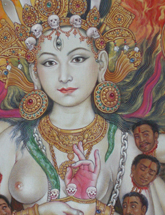 Welcome to tibetanart.com - the website of the British artist and author Robert Beer, who first began to study and practice Tibetan Art in 1970. Showcased in galleries are masterpieces of Tibetan Buddhist and Hindu Tantric art painted by the finest contemporary thangka painters and Newar artists of the Kathmandu Valley.
The main purpose of this site is to reveal the incredible skills of these artists by making their original works available as fine-art Giclee Prints, which are all meticulously accurate in their iconography, colour fidelity and detail. Each painting has a precise description written by Robert Beer, who is working with a master printer to individually produce these archival prints. Also exhibited are the exquisite visionary paintings and mandalas of John F B Miles, along with other deity prints and postcards. Essentially the artists themselves are represented here as some of the most spiritual and divinely inspired painters of our time.
News from tibetanart.com
January 2020 - New A5 Mounted Prints, and Dharma Centre discounts.
Some smaller A5 size Giclee Prints are now available in 7 x 9 in. (177 x 229 mm), and 7 x 10 in. (177 x 255 mm), size matte grey mounts that are ready for framing, with an image width of around 4.9 in. (124 mm). These are mainly of single deity or simpler compositions. I also have a large stock of Posters, Screen Prints, and most of the Postcards that feature on this website, which are available at up to 50% discount for substantial orders from Dharma Centres or Shops, who can Contact me directly through the website.