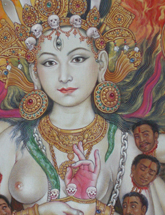 Welcome to tibetanart.com - the website of the British artist and author Robert Beer, who first began to study and practice Tibetan Art in 1970. Showcased in galleries are masterpieces of Tibetan Buddhist and Hindu Tantric art painted by the finest contemporary thangka painters and Newar artists of the Kathmandu Valley.
The main purpose of this site is to reveal the incredible skills of these artists by making their original works available as fine-art Giclee Prints, which are all meticulously accurate in their iconography, colour fidelity and detail. Each painting has a precise description written by Robert Beer, who is working with a master printer to individually produce these archival prints. Also exhibited are the exquisite visionary paintings and mandalas of John F B Miles, along with other deity prints and postcards. Essentially the artists themselves are represented here as some of the most spiritual and divinely inspired painters of our time.
News from tibetanart.com
October 7th. 2020
Orders have been consistently coming in throughout these months in and out of the lock-down, although posting items to the USA has now become more expensive, with more costly items needing to be sent 'tracked'. I have also recently added a bargain set of 67 different postcards to this website, consisting of sixty of the 6 x 4 inch postcards and seven of the large format postcards. These are proving to be popular, and are priced at GBP £26.50 (approx. US $35.00) plus postage costs.