Posters (A3 & A2 sizes)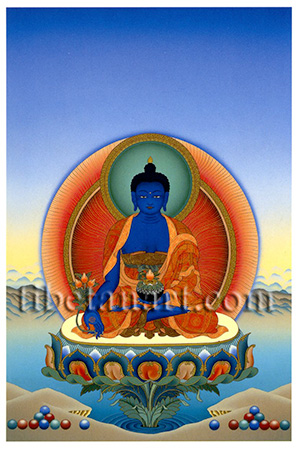 Price : £3.95
The Medicine Buddha, or Medicine Guru (Skt. Bhaisajyaguru; Tib. sMan-gyi bla) is the form in which Shakyamuni manifested in order to reveal the Medical Tantras. The meditation practice of this deity is believed to cure the afflictions of body, speech and mind. He is also known as the 'King of...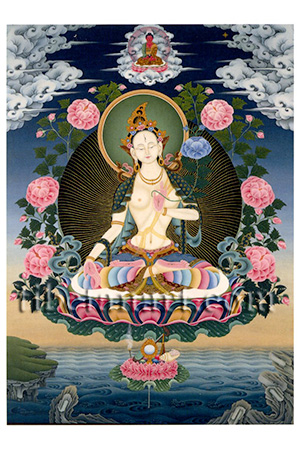 Price : £3.95
Tara, the 'Liberator or Saviouress', is the female bodhisattva of compassion and the patron goddess of Tibet. In her two principal green and white aspects she is believed to have manifested from the tears of Avalokiteshvara, the male bodhisattva of great compassion. In her white pacifying aspect as...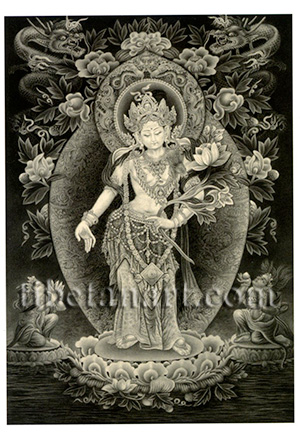 Price : £3.95
This exquisite chiaroscuro painting of Padmapani Lokeshvara, the bodhisattva of compassion, was the last painting made by the great Newar artist, Siddhimuni Shakya. This monochrome painting has been rendered through a very subtle technique of ink shading, where all the luminous highlights are...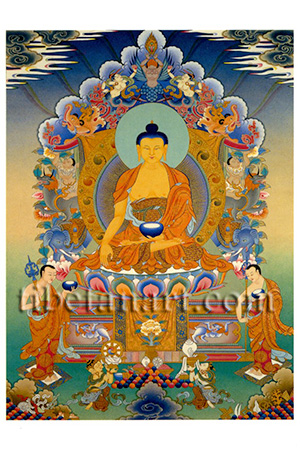 Price : £3.95
The historical Buddha of our present era, Shakyamuni, is depicted here seated in vajra-posture upon a moon disc, multicoloured lotus, and an ornate throne that is supported on each of its four sides by a pair of lions. Shakyamuni is golden in colour and wears the three red robes of a Buddhist monk....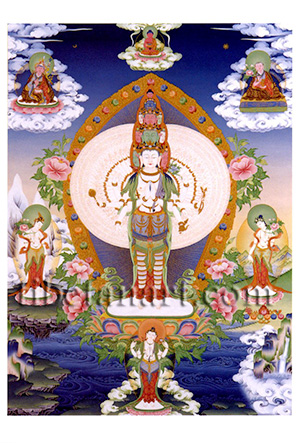 Price : £3.95
Avalokiteshvara (Tib. Chenrezig) with a thousand hands and a thousand eyes is also known as Mahakarunika, the 'great compassionate one'. He is white in colour, adorned with the five divine silk and eight jewel ornaments, and he stands upon a moon disc and a lotus. His eleven faces are arranged into...
Price : £15.00
SET OF ALL FIVE A3 SIZE POSTERS (AS ABOVE) 1. The Medicine Buddha: 2. White Tara: 3. Lokeshvara: 4. Shakyamuni Buddha: 5. Thousand-Armed Avalokiteshvara...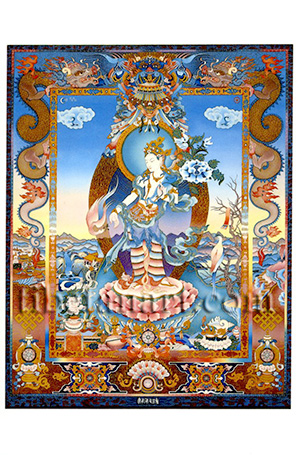 Price : £4.95
Padmapani, meaning 'lotus-in-hand', is the main two-armed form of the bodhisattva of compassion, Lokeshvara (Avalokiteshvara). He is white in complexion and stands gracefully upon a moon disc and lotus. He is adorned with the five silk and eight jewelled ornaments, and wears the emblem of an...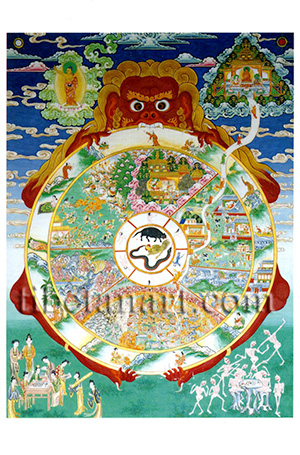 Price : £4.95
The Wheel of Life (Skt. Bhavachakra: Tib. Srid-pa'i 'khor-lo) is a pictorial illustration of the Buddhist teachings on cyclic existence or samsara. In the central hub of the wheel are a pig, a cockerel and a snake, which represent the three primary poisons of ignorance, desire and aversion. In the...
Showing 1 to 8 of 8 items sorted by Popularity