Sino-Japanese Prints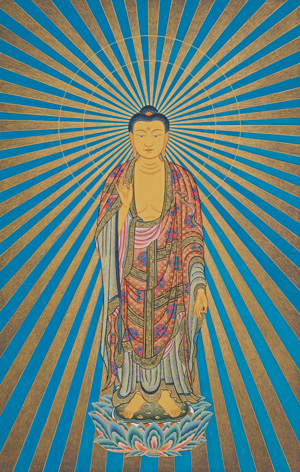 Price From : £30.00
Amitabha, the "Buddha of Boundless" Light, appears here in his Sino-Japanese form as Amida Buddha, who stands upon the seed-head of a multicolored lotus with many petals. Amitabha is golden in complexion and his divine form is endowed with the thirty-two major marks and eighty minor signs of an...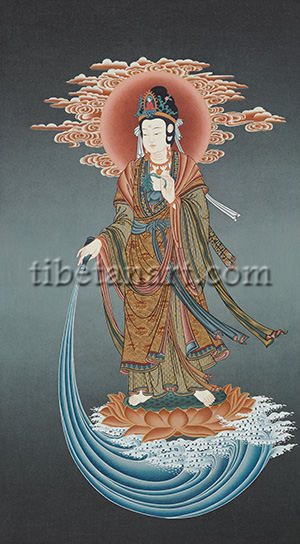 Price From : £28.00
This Sino-Japanese composition depicts Avalokiteshvara, the bodhisattva of compassion, in the androgynous form of Kuan Yin, who can appear in either male or female form in the Chinese and East Asian Buddhist traditions. The name Kuan Yin (or Guanyin) is an abbreviation of Kuan Shi Yin or...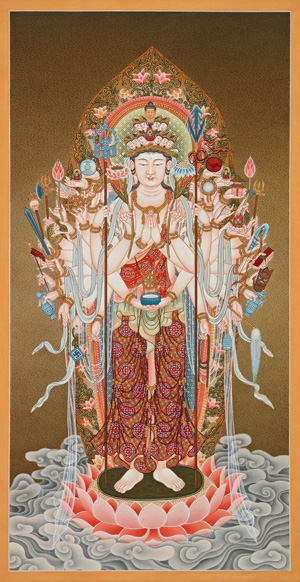 Price From : £28.00
Kannon is the name given to the various Japanese aspects of the bosatsu or great bodhisattva of compassion, who traditionally manifests in thirty-three main forms. These forms are often androgynous and relate to his male aspects as Avalokiteshvara , the 'Lord who Sees All' the sufferings of...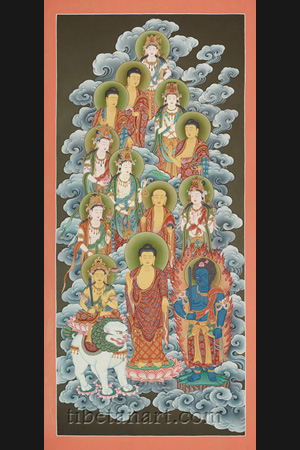 Price From : £52.00
This painting shows the assembly of the 'thirteen deities' of the Shingon School of Japanese Buddhism. Shingon, meaning "True Words", developed from the teachings of a Japanese monk named Kukai (774-835), who was later recognized as the Eighth Patriarch of the 'Esoteric School' and known as...
Showing 1 to 4 of 4 items sorted by Popularity