Large Cards (minimum 4)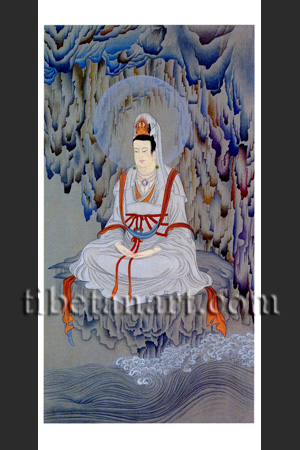 Price : £0.60
Kuan Yin, or Guan Yin, is the East Asian bodhisattva of compassion, who is usually represented in female form and is commonly identified with her male aspect or counterpart, Avalokiteshvara. Her full Chinese name, Kuan Shih Yin, meaning 'She who beholds the cries of the World', was originally...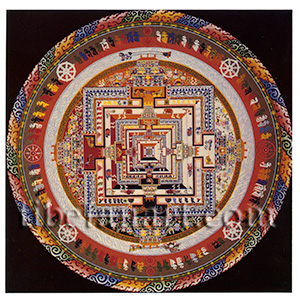 Price : £0.90
The Kalachakra, or 'Wheel of Time', is an extremely complex tantric system of late Indian Buddhist origin, the initiation into which has now been extensively given by His Holiness the Dalai Lama and several other great Tibetan lineage holders of the Kalachakra teachings. An important aspect of this...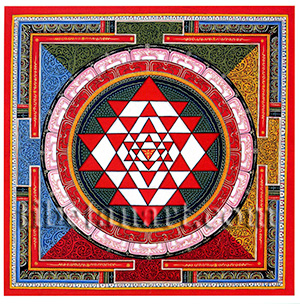 Price : £0.90
Within the Hindu Shaivite and Shakta Tantra traditions a deity may be worshipped in three ways - as a figurative statue or painting, as an abstract image or symbol, and as a yantra or 'device'. A yantra is like a mandala in its two-dimensional geometrical form, but it is often drawn or inscribed on...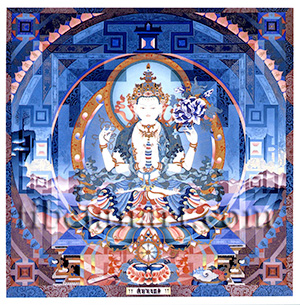 Price : £0.90
I made this small gouache painting in 1976. It only measures ten inches (25 cm) in size, but its 'dimension' was quite unusual for its time and many artists in Nepal later copied it. Interestingly the idea of superimposing an ethereal mandala over a natural setting or landscape was a concept that...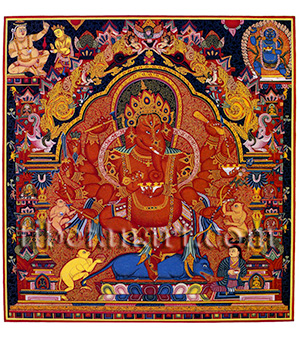 Price : £0.90
This painting of Maharakta Ganapati is a copy of a famous early fifteenth century Newar thangka that was first commissioned for Ngor Sakya Monastery in Southern Tibet. Maharakta or 'Great-red' Ganapati has twelve arms and dances in bow-and-arrow posture above his large blue rat vehicle. With his...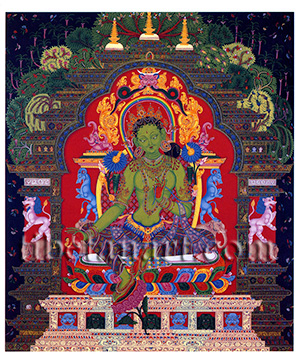 Price : £1.00
This painting of Green Tara is a copy of a famous early Newar or Eastern Indian thangka that is now housed in the Cleveland Museum, which has been dated to around 1260. This painting was once attributed to a brilliant thirteenth century Newar artist named Arniko, who was reputedly appointed master...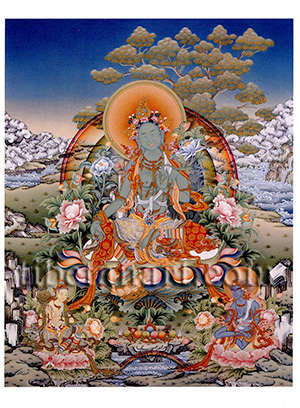 Price : £1.20
Khadiravani Tara, or 'Tara of the acacia forest', is shown here with were her two bodhisattva attendants, Marici and Ekajata, who appear at her lower right and left sides. Marici (Tib: Od-zer Can-ma), meaning 'the goddess of light rays', holds the attribute of a flowering branch of the ashoka tree...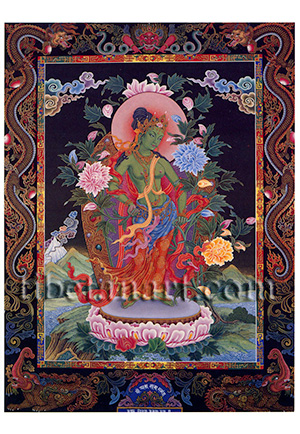 Price : £1.50
LAST FEW POSTCARDS REMAINING (July 2016). This lovely depiction of Standing Green Tara, the female bodhisattva of compassion, was painted by Dinesh Charan Shrestha and based upon an original composition drawn by his brother Uday. Green Tara stands gracefully in 'triple-bend' (tribhanga) posture...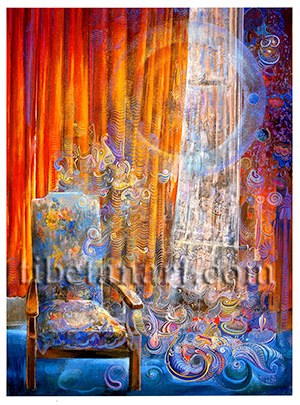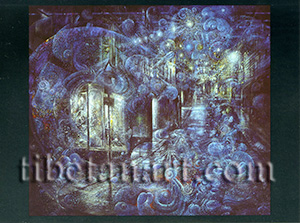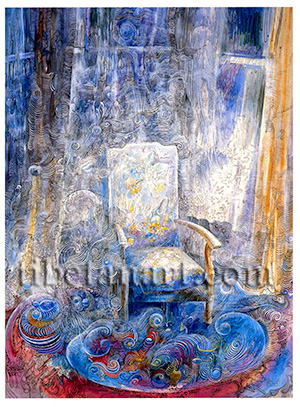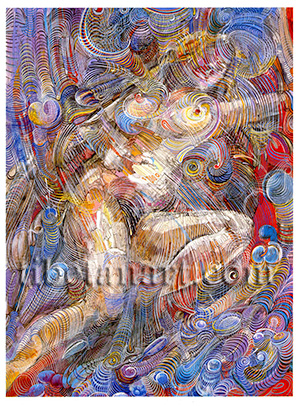 Showing 1 to 12 of 12 items sorted by Popularity