Buddhist Goddesses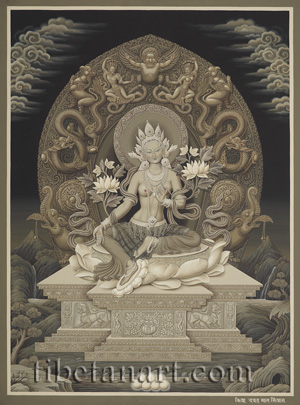 Price From : £30.00
Green Arya Tara sits gracefully upon her moon disc, lotus seat and enlightenment throne in her traditional posture of royal ease. She has the youthful body of a sixteen-year-old, a sweetly smiling face, and all of her silk garments and jewel ornaments are meticulously painted. The minute form of...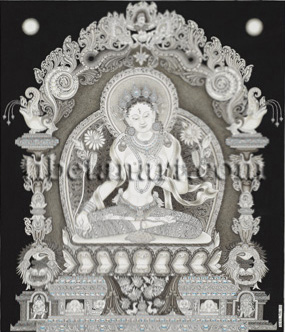 Price From : £28.00
This delicate black and white painting of White Saptalocana Tara has been innovatively rendered in the style of an early 13th century Newar or Pala-style painting from Eastern India. The palette used in this essentially monochrome painting employs a minimal use of blue, red and sepia pigments that...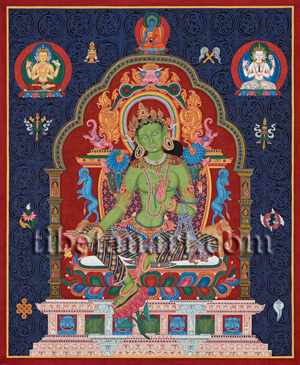 Price From : £28.00
This composition is based upon the famous late 13th century thangka painting of Green Tara in the Cleveland Museum of Art in Ohio, which some art historians now attribute to the work of a brilliant Newar artist named Arniko. At the age of seventeen Arniko brought a group of about eighty Newar...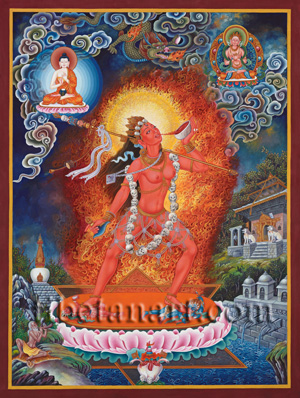 Price From : £28.00
This composition depicts Vajrayogini (Tib. Dorje Naljorma) in her form as Naro Khandroma or 'Naropa's Dakini'. Vajrayogini belongs to the Highest Yoga Tantra class of deities and is the principle female yidam deity or dakini in the Vajrayana Buddhist pantheon. As the consort of Chakrasamavara she...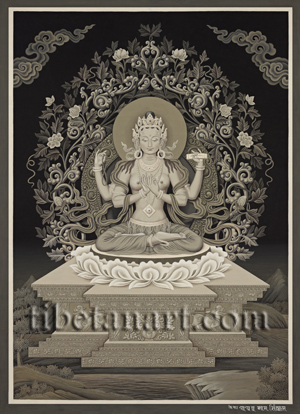 Price From : £28.00
Prajnaparamita (Tib. Shes-rab phar-phyin), meaning the 'Perfection of Wisdom', is an important female deity who symbolically embodies the perfection (paramita) of the Buddha's transcendental wisdom or discriminating awareness (prajna). From its inception Buddhism has always equated wisdom as a...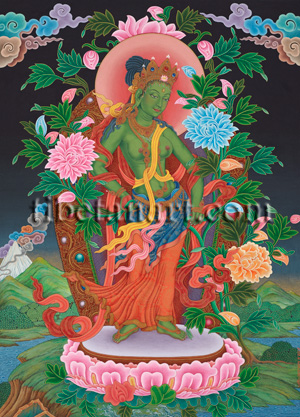 Price From : £28.00
Green Tara or Arya Tara, the goddess of mercy and compassion, is shown here standing gracefully in tribhanga or 'triple-bend' posture upon the silver moon disc of her pink lotus pedestal. She is youthful like a sixteen-year-old and emerald green in colour, with a sweetly smiling face, two gentle...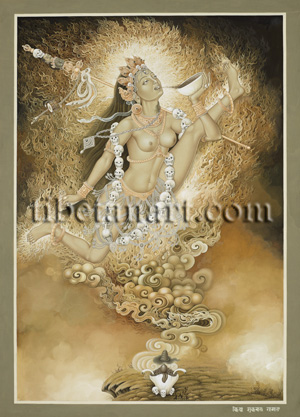 Price From : £28.00
Vidyadhari, the 'Knowledge Holder', manifests as one of the four principal aspects of Vajrayogini in the Newar Buddhist tradition, where she is commonly known as Bidjeshwori Devi, or Akash-yogini, the 'Sky (Skt. akasha) or Space-going' aspect of the goddess Vajrayogini. The Bijeshwori temple...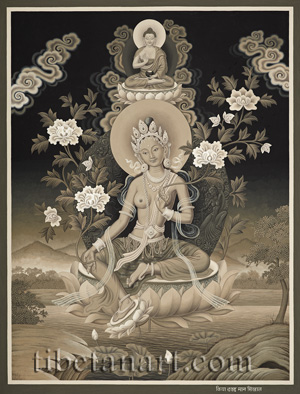 Price From : £28.00
This beautiful sepia painting by Devendra Man Sinkhwal shows Green Tara seated in her traditional posture of royal-ease upon the white moon disc of her lotus seat, with her left leg drawn up and her extended right foot resting upon the moon disc of a small lotus pedestal. Both of these lotuses...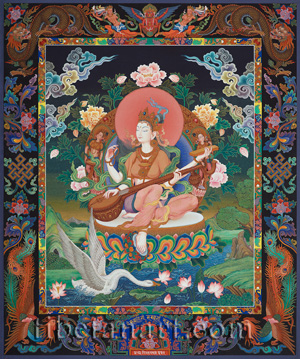 Price From : £28.00
This exquisite painting of Sarasvati was painted by Dinesh Charan Shrestha in 2002. Sarasvati appears as a goddess of wisdom, knowledge and learning in both the Buddhist tradition and the Hindu tradition, where she is especially associated with the arts of music, poetry, drama and speech....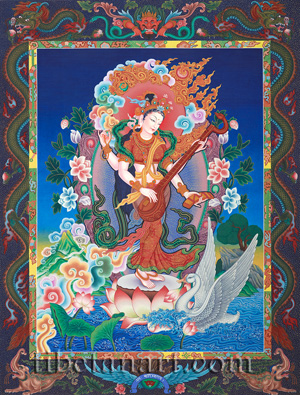 Price From : £28.00
Sarasvati, the four-armed wisdom goddess, is the consort of Manjushri or Manjukumara, the 'Sweet-voiced youth'. She appears here in her standing form as Vajra-vina Sarasvati, who is known in Tibetan as the 'Goddess of melodious speech', and in her praises as the 'Immaculate Swan-child'. The...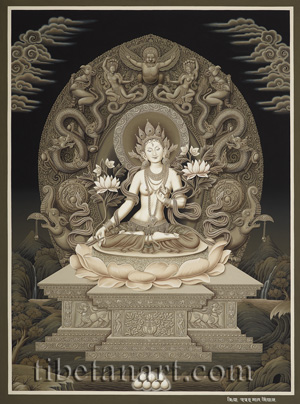 Price From : £30.00
White Tara (Skt. Sita Tara) is also known as Saptalocana Tara, the 'Seven-eyed Saviouress', and along with Amitayus and Ushnishavijaya she appears as one of the three principal Buddhist deities of longevity. Her meditational practices are mainly employed to confer long-life, alleviate illnesses,...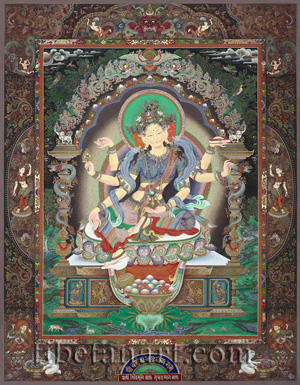 Price From : £220.00
This great masterpiece of the goddess Vasundhara was painted over a period of three years by the famous Newar artist Siddhimuni Shakya (1933-2001), and his son, Surendra Man Shakya (born 1967). Siddhimuni chose to devote the last ten years of his long painting career to the creation of three...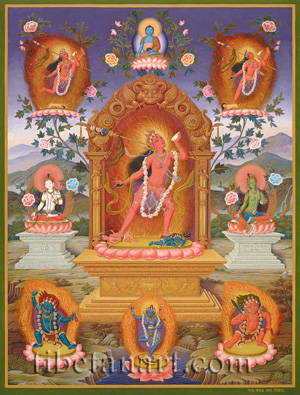 Price From : £30.00
This painting shows the goddess Vajrayogini at the centre of a nine-deity composition, and is unusual in depiction all of the deities as they would naturally appear from the viewer's perspective. Vajrayogini's 'secret place' or pubic area is positioned at the exact centre of the painting, with all...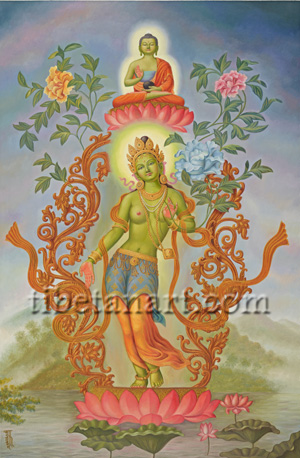 Price From : £30.00
This oil painting shows Green Tara standing gracefully in triple-bend (tribhanga) posture upon the flat pericarp or seed-head of a pink lotus, which rises above the water of a lotus-lake. The flat plane of the seed-head, along with the mist-shrouded hills in the background, defines the horizontal...
Showing 1 to 14 of 14 items sorted by Popularity