Goddesses and Dakinis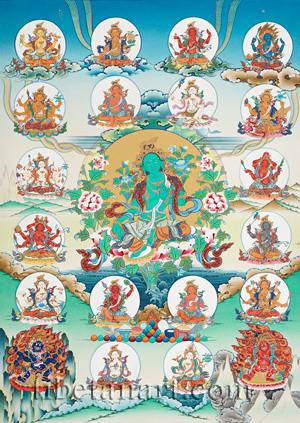 Price From : £28.00
This rare thangka portrays the complete assembly of the twenty-one Taras according to the tradition of the early Indian Buddhist master, Suryagupta. There are three main traditions that depict the twenty-one Taras, the first being the Nagarjuna and Atisha tradition, where all of the Taras are...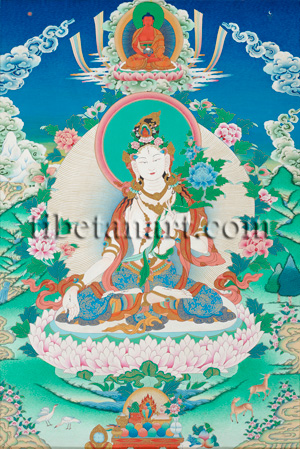 Price From : £28.00
White Tara (Skt. Sita Tara: Tib. Drol-kar) is the long-life aspect of the female saviouress Tara, the most popular Buddhist goddess of mercy and compassion. In her white longevity aspect she is also known as Saptalocana Tara, or 'seven-eyed' Tara, and as an important yidam or meditational deity in...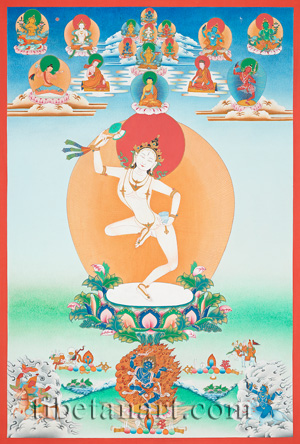 Price From : £28.00
Machig Labdron, or Machik Labkyi Dronma (circa 1055-1153), was the famous yogini who founded the Chod lineage of practice in Tibet, and her main teacher was the Indian yogin, Padampa Sangye. The name Machig means 'one-mother', and Lab refers to the province that she came from in Southern Tibet. The...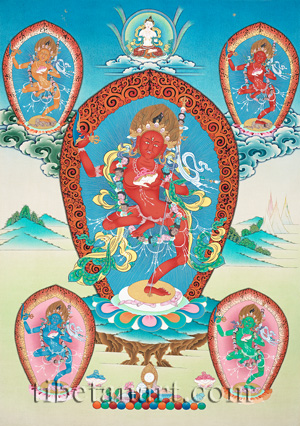 Price From : £28.00
Vajravarahi (Tib. Dorje Phagmo), meaning the 'Indestructible (vajra) Sow (varahi)', is a principal aspect of Vajrayogini, whose practice - both as a major yidam deity in her own right, and as the consort of Chakrasamvara - is of particular significance in the Tibetan Kagyu traditions In this...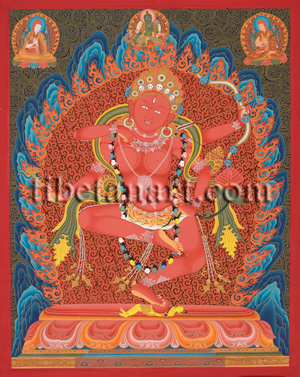 Price From : £28.00
Kurukulla is a semi-wrathful red dakini, whose practice as a powerful subjugating goddess is popular in all schools of Tibetan Buddhism. Kurukulla was an early Indian tribal goddess, and her name is included in the Hindu text of the Lalita-sahasra-nama, which lists the thousand names of the...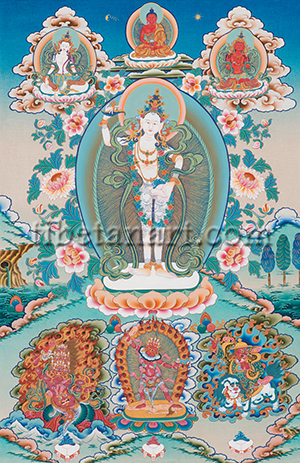 Price From : £28.00
This thangka, from the Khandro Thugthik or 'Dakini Heart Essence' cycle of the Dudjom Tersar lineage, depicts the dakini Yeshe Tsogyal with three peaceful deities above, and the three principle protectors of the Dzogchen and 'Revealed Treasure' or terma tradition of the Nyingma...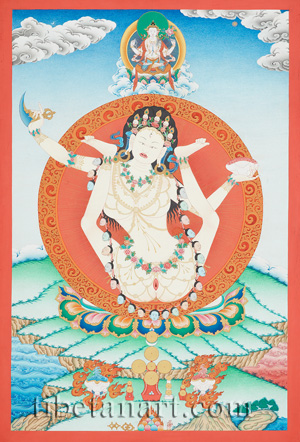 Price From : £28.00
This thangka depicts the secret dakini aspect of White Khechari, whose practice is associated with the eleventh century Indian yogini Sukhasiddhi. Sukhasiddhi lived in Kashmir and was the kind but impoverished mother of six children. One day she gave the last of her rice away to a wandering beggar,...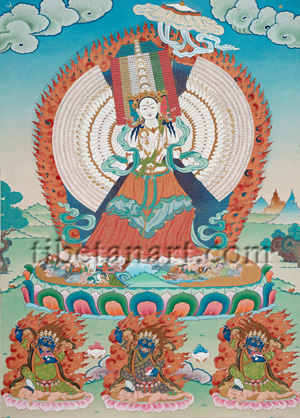 Price From : £28.00
Sitatapatra (Tib. Dukar: gDugs-dkar), meaning the "White Parasol Lady", is one of the most complex deities in the Vajrayana Buddhist pantheon, with a thousand heads, a thousand arms, a thousand feet, a multitude of beings that she crushes underfoot, and ten million eyes that appear on every...
Showing 1 to 8 of 8 items sorted by Popularity