A4 Digitial Art Prints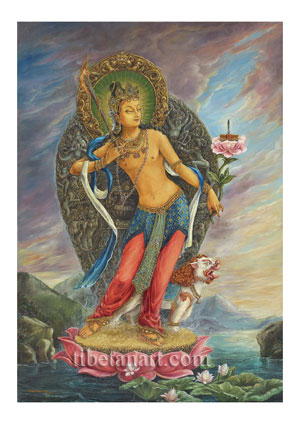 Price : £4.95
This oil painting was made by Samundra Man Singh Shrestha in 2004, and depicts the standing form of Manjushri, the bodhisattva of Wisdom. In triple-bend posture Manjushri stands gracefully upon the seed-head of a pink lotus that arises from a lake. Wisps of early morning mist arise from the surface...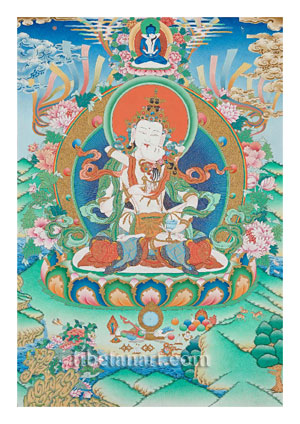 Price : £5.95
Vajrasattva (Tib. Dorje Sempa), the 'Indestructible or Vajra Being', is an important bodhisattva and yidam deity whose meditation practice is employed in all schools of Tibetan Buddhism to purify the karmic defilements of body, speech and mind. His sadhana or visualization practice is particularly...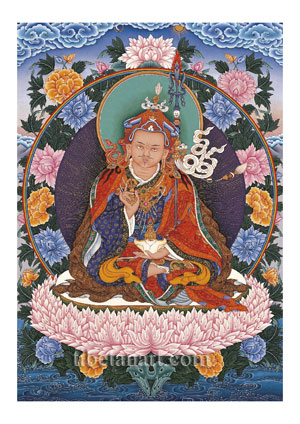 Price : £5.95
Padmasambhava or Padmakara (Tib. Pema-jungne), meaning the 'Lotus-born', is the principal aspect of Guru Rinpoche, the 'Precious Guru' from Oddiyana in Western India, who is credited with introducing Vajrayana Buddhism into Tibet during the eighth century. Because of his miraculous...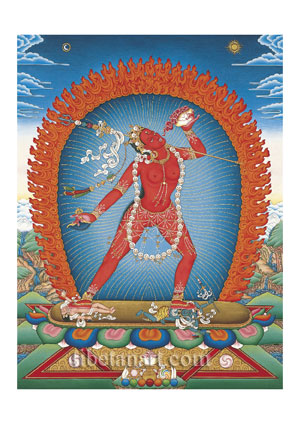 Price : £5.95
Vajrayogini (Tib. Dorje Naljorma) is a manifestation of supreme enlightenment in female form, and she belongs to the 'Mother' class of the Highest Yoga Tantra systems of the Chakrasamvara cycle of tantras, which emphasizes the cultivation of Wisdom and the attainment of 'Clear Light'. As the red...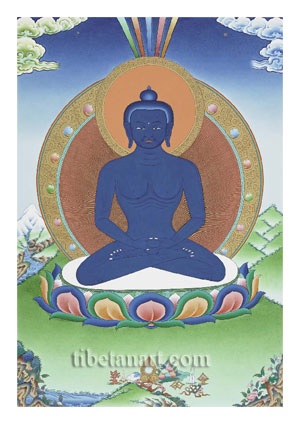 Price : £5.95
This painting by Sunlal Ratna Tamang depicts the blue Buddha, Samantabhadra, as a single deity composition. Samantabhadra (Tib. Kuntuzangpo), meaning the 'All Good' or 'Ever Perfect', is the Adi or Primordial Buddha of the Nyingma or 'ancient-school' of Tibetan Buddhism, where he is recognized as...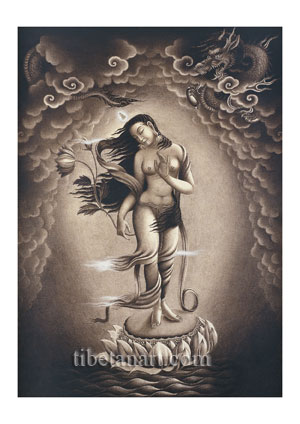 Price : £4.95
This sepia painting of Green Tara shows this beloved Buddhist goddess of mercy and compassion standing amidst the wind. In tribhanga or 'triple-bend posture' Tara stands gracefully upon the seed-head of a windblown open lotus that floats upon the choppy waves of a lake. The lake merges into a hazy...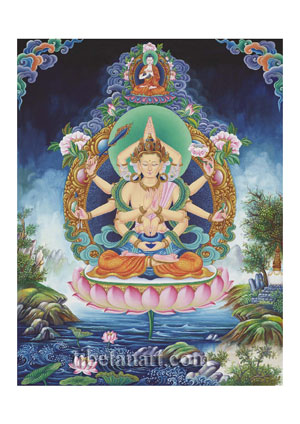 Price : £4.95
Namasangiti (Tib: mtshan-brjod), is a special twelve-armed aspect of Manjushri, the bodhisattva of wisdom, that is of particular importance in the Newar Buddhist tradition, where he is also regarded as an emanation of Vairocana Buddha, who appears above his head in this composition. Namasangiti,...
Showing 1 to 7 of 7 items sorted by Popularity