Merit Fields & Assemblies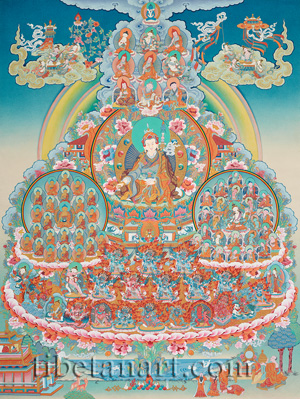 Price From : £28.00
This thangka, painted by Chewang Dorje in 2003, depicts the Nyingma Refuge Tree or Merit Field assembly that is visualized in the 'Preliminary Practices' (ngondro) of the Dudjom Tersar or 'New Treasures (tersar) of Dudjom' tradition, which were revealed relatively recently by Dudjom...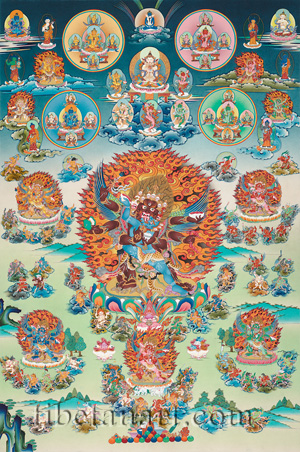 Price From : £30.00
This thangka depicts the assembly of the forty-two 'peaceful' (zhi) and fifty-eight 'wrathful' (khro) deities that constitute the Hundred Peaceful and Wrathful Deities of the Zhitro (zhi-khro) or Bardo Mandala. These deities are precisely described in the well-known text of the Bardo Thodol or...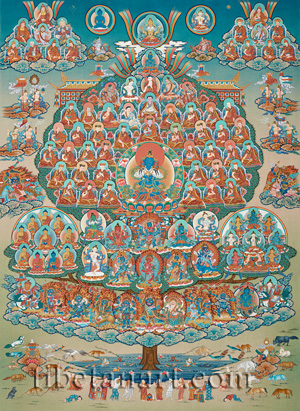 Price From : £28.00
This 'Merit Field' (Tib. shog-shing) thangka was painted by Dorje Tamang in 2006, and shows the 'Primordial Buddha' Vajradhara seated at the centre of the Karma Kagyu Refuge Tree, with the main lineage holders of this tradition in the upper canopy of the tree, its principal meditational...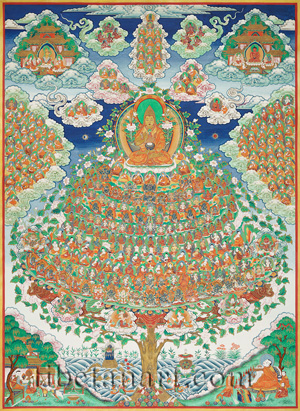 Price From : £96.00
This Refuge Tree or 'Merit Field' (Tib. shog-shing) depicts the assembled deities and lineage gurus of the Gelug or 'virtuous path' school of Tibetan Buddhism. This thangka was painted in Eastern Tibet (circa 1940), and is meticulously accurate in its iconography, with a skillful use of fine...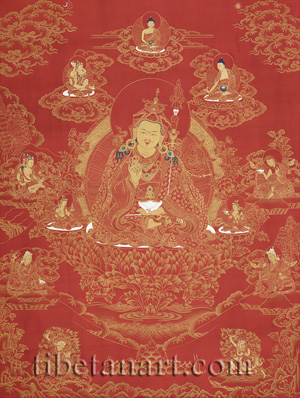 Price From : £28.00
This gold on vermilion thangka was painted by Sunlal Ratna Tamang in 2005, and depicts Padmakara (Padmasambhava), the 'lotus-born', as the central figure of a composition known as 'The Guru's Eight Manifestations' (Tib. Guru Tsen-gye), which belongs to the Nyingma 'revealed treasures' or terma...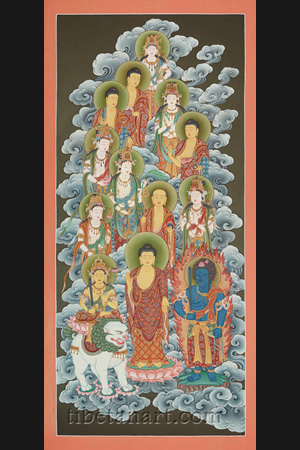 Price From : £52.00
This painting shows the assembly of the 'thirteen deities' of the Shingon School of Japanese Buddhism. Shingon, meaning 'true words', developed from the teachings of a Japanese monk named Kukai (774-835), who was later recognized as the Eighth Patriarch of the 'esoteric school' and known as...
Showing 1 to 6 of 6 items sorted by Popularity