Dinesh Charan Shrestha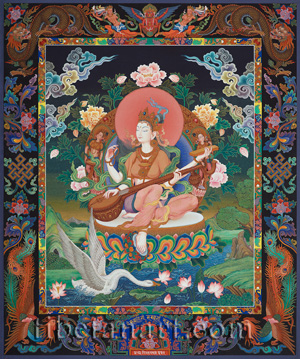 Price From : £28.00
This exquisite painting of Sarasvati was painted by Dinesh Charan Shrestha in 2002. Sarasvati appears as a goddess of wisdom, knowledge and learning in both the Buddhist tradition and the Hindu tradition, where she is especially associated with the arts of music, poetry, drama and speech....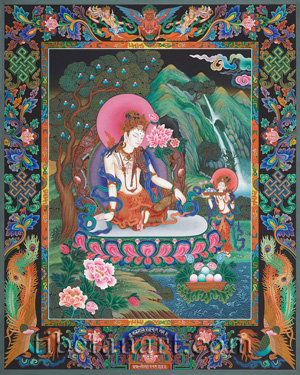 Price From : £28.00
This beautiful composition of Khasarpana Lokeshvara was painted in 2002 by Dinesh Charan Shrestha, who now works and teaches in Berkeley, California. Khasarpana, meaning 'air-gliding', is one of the two-armed manifestations of the bodhisattva Avalokiteshvara or Mahakarunika, the 'great...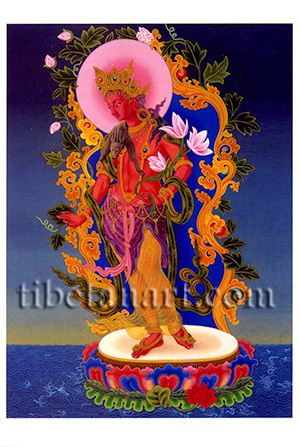 Price : £0.70
This exquisite painting depicts Avalokiteshvara (Tib: Chenrezig), the bodhisattva of compassion, in the form of Red Padmapani, the 'Holder of the Lotus'. He stands gracefully upon a moon disc and a multicoloured lotus that arises from a lake. He wears the eight jewel ornaments and five silk...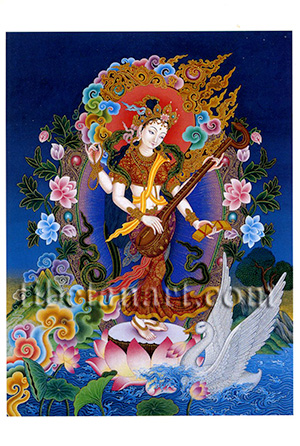 Price : £0.70
Sarasvati, meaning 'flowing water', is both a Hindu and Buddhist goddess of learning and knowledge, who is especially venerated within the arts of music, singing, poetry and speech. The Sarasvati was once a great Indian river that dried up long ago, but its invisible presence is identified with the...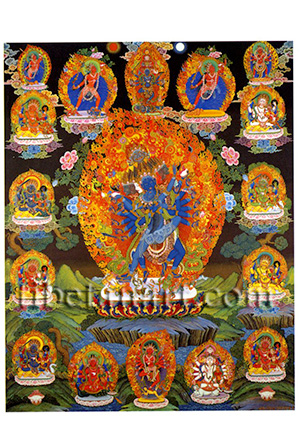 Price : £0.70
Hevajra is a yidam deity that belongs to the Highest-Yoga class of 'mother-tantras', and he is represented here in his form as 'Weapon Hevajra' (Ayudha Hevajra), with eight faces, four legs, and sixteen arms - each of which holds a specific implement. Hevajra is blue-black in colour and with his...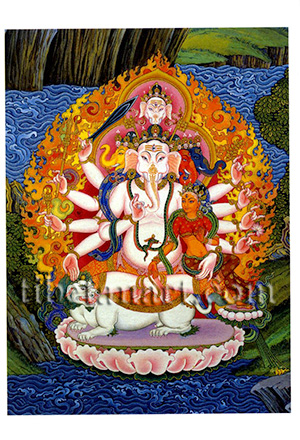 Price : £0.70
Seated upon a lotus, a silver moon disc, and a roaring white lion is the ten-armed form of Ganesha, the elephant-headed 'remover of obstacles', who appears here as Heramba Ganapati, the protector of the poor and weak. His complexion is white, and his five elephant heads are coloured white (centre),...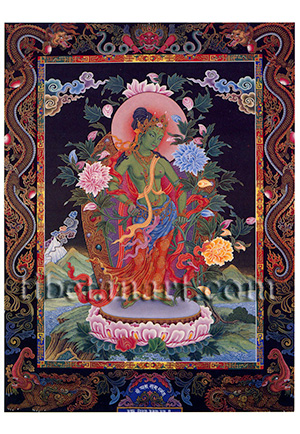 Price : £1.50
LAST FEW POSTCARDS REMAINING (July 2016). This lovely depiction of Standing Green Tara, the female bodhisattva of compassion, was painted by Dinesh Charan Shrestha and based upon an original composition drawn by his brother Uday. Green Tara stands gracefully in 'triple-bend' (tribhanga) posture...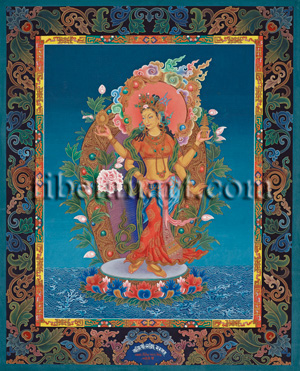 Price From : £28.00
Lakshmi is the Hindu Goddess of wealth, prosperity, beauty and good fortune, who arose during the legendary 'churning of the ocean', when she was taken as a wife by Lord Vishnu. As Vishnu's consort she is also known as 'Shri', the 'Auspicious One', who incarnated in the forms of Sita and Rama as...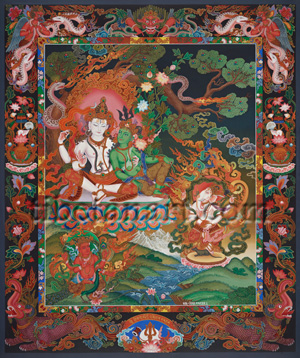 Price From : £56.00
The image of Shiva-Shakti, where Siva and Parvati appear together as husband and wife is popular in both Indian and Newar art. But they are also represented together with their two miraculously created 'sons', Ganesha and Kumara, in a 'divine family' assembly known as Shiva Parivar or 'Shiva's...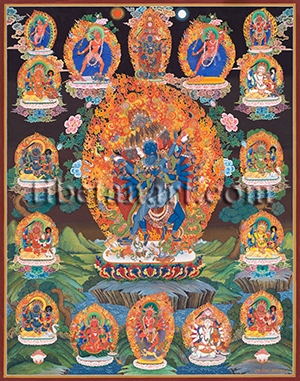 Price From : £56.00
This elaborate painting by Dinesh Charan Shrestha took more than a year to complete and is his most ambitious composition to date. It depicts the central image of Weapon-bearing Hevajra and his consort Nairatma, with the eight aspects of Bhairava (Skt. astabhairava) and the 'Eight Mother'...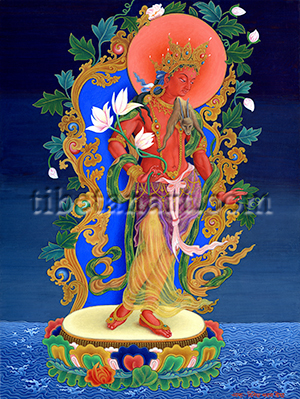 Price From : £28.00
Text to Follow ......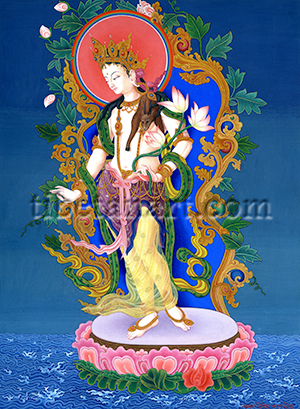 Price From : £28.00
Text to Follow ......
Showing 1 to 12 of 12 items sorted by Popularity