Amrit Dangol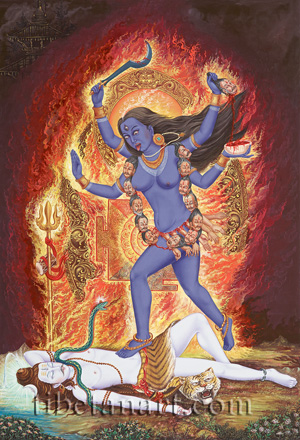 Price From : £30.00
This painting depicts Dakshina Kali in her traditional standing four-armed aspect. She strides upon the recumbent body of Shiva, who reclines peacefully upon the ground with his left hand supporting his head. Shiva is bluish-white in colour, with a mustache, three eyes, and the mark of a sandalwood...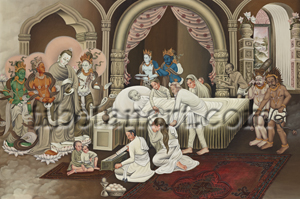 Price From : £58.00
This sepia-toned narrative painting depicts the final moments in the life of the Buddhist King, Dharmaketu, who died at an early age, and was first illustrated by the artist Siddhimuni Shakya. ...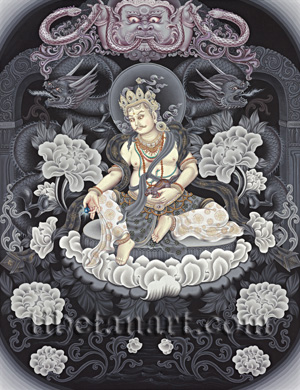 Price From : £30.00
In Hindu mythology Kubera is a wealth-god and the king of the yaksha spirits, who originally ruled over the kingdom of Sri Lanka before his demonic stepbrother, Ravana, overthrew him. Kubera then took up residence in the northern city of Alakapuri, which is located in the Himalayas near...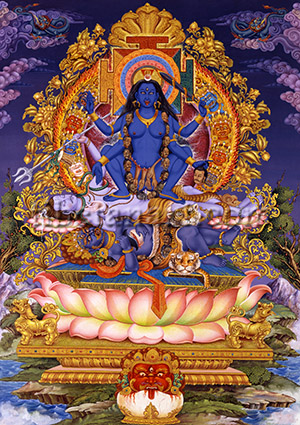 Price From : £30.00
Painted by Amrit Dangol over a four-month period, this composition depicts Mahakali, the "Great Black" goddess, squatting upon the 'corpse-throne' of quiescent Shiva and wrathful Mahakala as she engages in 'reversed sexual union' (Skt. viparita-rati) with her lord, Shiva-Mahadeva. Kali...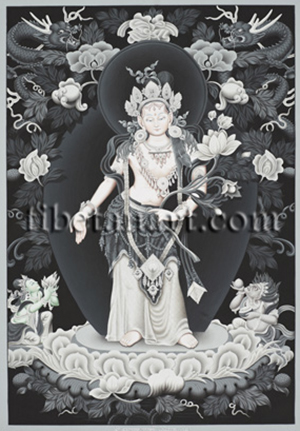 Price From : £30.00
This black and white painting of Avalokiteshvara as Padmapani, meaning the 'Lotus in Hand', is a copy of a famous composition made by the legendary Newar artist, Anandamuni Shakya, in the early1940's, which hung in the old royal palace of Hanuman Doka in Kathmandu's Durbar Square. Anandamuni was...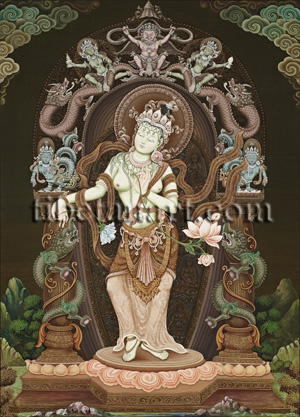 Price From : £30.00
This beautiful painting of standing Green Tara by Amrit Dangol was painted in 2006 and won first prize in the annual Nepal Academy of Fine Arts exhibition of that year. Green Tara stands gracefully in tribhanga or 'triple-bend' posture as she dances on the moon-disc that rests upon the...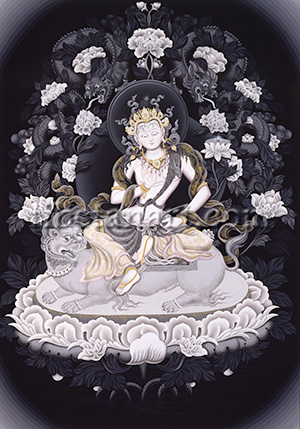 Price From : £30.00
Harivahana, meaning 'Lion-mounted' or 'Lion-vehicle (Skt. vahana)' Lokeshvara, appears as one of the hundred-and-eight different manifestations of Avalokiteshvara, the bodhisattva of great compassion, in the Newar Buddhist tradition. He is peaceful, youthful and ruby-red in colour...
Showing 1 to 7 of 7 items sorted by Popularity