Samundra Man Singh Shrestha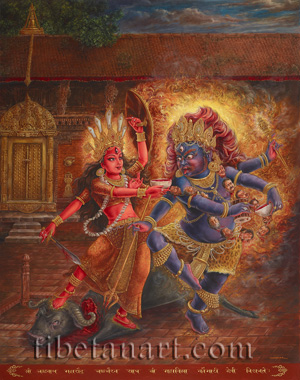 Price From : £64.00
This magnificent oil painting by Samundra Man Singh Shrestha took five months to paint. It was completed in 2006, and is Samundra's most ambitious composition to date. The painting depicts the four-armed mother goddess Kaumari, as she offers a skull-cup of blood from a freshly sacrificed buffalo to...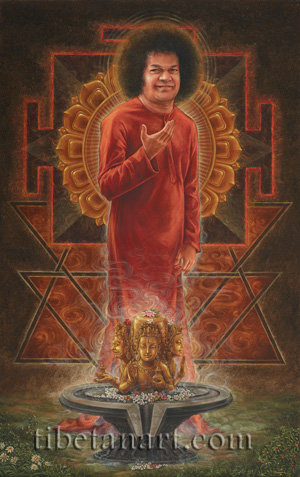 Price From : £28.00
For some people it may seem strange to include this portrait of India's most famous, and now somewhat controversial, miracle-working guru in the Hindu Deity gallery of this website. But for countless Hindus of India and Nepal, Sathya Sai Baba has long been recognized as a living embodiment of the...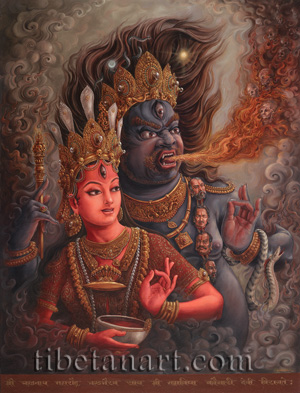 Price From : £64.00
This oil portrait was painted by Samundra Man Singh Shrestha in 2008, and depicts the two-armed aspects of the mother-goddess Kaumari and her consort, Chanda Bhairava. The assemblies of the 'eight mothers' (astamatrika) and the 'eight Bhairavas' (astabhairava) are of great importance in the Newar...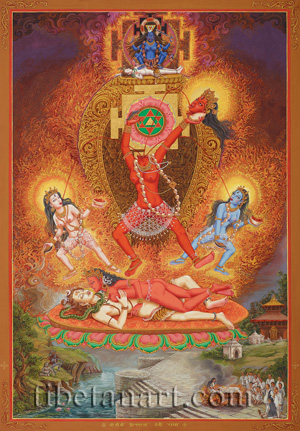 Price From : £64.00
This magnificent painting by Samundra depicts Chinnamasta, the 'severed headed' yogini, who traditionally appears as the third of the ten mahavidyas or 'great knowledge-holding' goddesses in the Hindu shakta-tantra traditions. Collectively the ten mahavidyas represent the various manifestation of...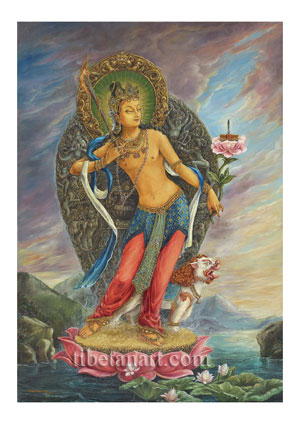 Price : £5.95
This oil painting was made by Samundra Man Singh Shrestha in 2004, and depicts the standing form of Manjushri, the bodhisattva of Wisdom. In triple-bend posture Manjushri stands gracefully upon the seed-head of a pink lotus that arises from a lake. Wisps of early morning mist arise from the surface...
Showing 1 to 5 of 5 items sorted by Popularity