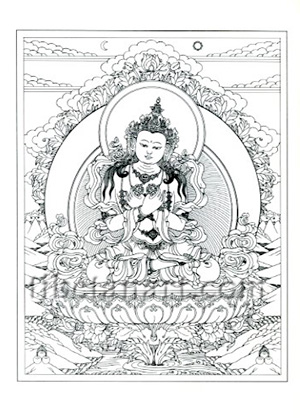 Format
Size
Price
Availability
Notecard + Envelope Set
7 x 5 inches


(178 x 127 mm)

£5.95
Currently in stock
Vajradhara :
A set of thirteen B/W notecards drawn by Robert Beer that depict some important lineage masters from the Indo-Tibetan Buddhist traditions. These notecards come with envelopes, and are machine creased so they can be coloured with fine-line pens, crayons or paint before folding. Each card has a short biography of the lineage holder or guru depicted.

Vajradhara (Tib. Dorje Chang), the 'holder of the vajra', is the primordial Adibuddha of the Tibetan Sakya, Kagyu and Gelugpa schools, the Dharmakaya aspect of the Buddha who manifested in order to transmit the tantric teachings. Vajradhara is the Sixth Buddha, or Lord, of the Five Enlightened Families, and in the Kagyu tradition he is recognized as the source of the Mahamudra teachings that were revealed to the first human guru, Tilopa. Vajradhara is dark blue in colour, and with his arms crossed in vajrahumkara-mudra he holds the method and wisdom attributes of a vajra and bell in his right and left hands.


© text by Robert Beer