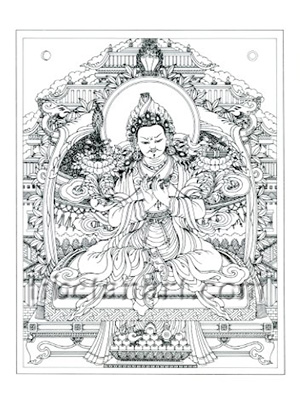 Please select the size and format that you require :
Format
Size
Price
Availability
Notecard + Envelope
7 x 5 inches


(178 x 127 mm)

£0.70
Currently in stock
Full set of all 13 cards
7 x 5 in.


(178 x 127 mm)

£5.95
Currently in stock
Trisong Detsen :
A set of twelve B/W Notecards with line-drawings by Robert Beer, which depict some of the most important Indian and Tibetan Buddhist lineage holders and gurus. The Notecards come with envelopes, and have a short biography of the lineage master depicted. Priced at £0-70 each, or £5-40 for the full set of twelve.

Trisong Detsen was the second of the three great Tibetan religious kings who patronized the establishment of Buddhism in Tibet. At his invitation many scholars and yogins traveled to Tibet, the most famous ones being Shantarakshita, Padmasambhava, and Vimalamitra. During his reign the first Buddhist Monastery was built at Samye in Central Tibet.
© text by Robert Beer