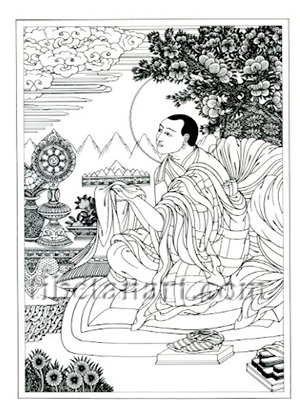 Format
Size
Price
Availability
Notecard + Envelope Set
7 x 5 inches


(178 x 127 mm)

£5.95
Currently in stock
Khedrub Je :
A set of thirteen B/W notecards drawn by Robert Beer that depict some important lineage masters from the Indo-Tibetan Buddhist traditions. These notecards come with envelopes, and are machine creased so they can be coloured with fine-line pens, crayons or paint before folding. Each card has a short biography of the lineage holder or guru depicted.

One of the foremost disciples of Je Tsongkhapa, Khedrub Je compiled many extensive works, including: an introduction to the Buddhist Tantras, an extensive commentary on the Kalachakra Tantra, and the biography of Tsongkhapa. He was the third abbot of Ganden Monastery, holding the throne for six years until his death at the age of fifty-three.
© text by Robert Beer