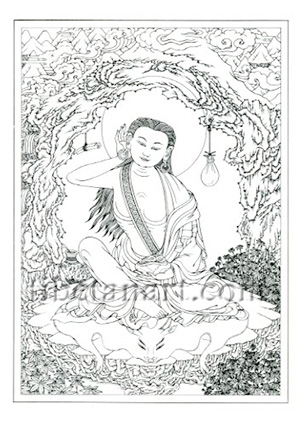 Format
Size
Price
Availability
Notecard + Envelope Set
7 x 5 inches


(178 x 127 mm)

£5.95
Currently in stock
Milarepa :
A set of thirteen B/W notecards drawn by Robert Beer that depict some important lineage masters from the Indo-Tibetan Buddhist traditions. These notecards come with envelopes, and are machine creased so they can be coloured with fine-line pens, crayons or paint before folding. Each card has a short biography of the lineage holder or guru depicted.

Milarepa was Tibet's most beloved yogin and poet, whose famous biography and collection of songs have served as a constant source of inspiration for all schools of Tibetan Buddhism. Under the guidance of his guru, Marpa, he underwent great penance for his early misdeeds. Clad only in a cotton robe, and living for a long time on nettles, he meditated for years in remote mountain caves until his ultimate enlightenment.
© text by Robert Beer