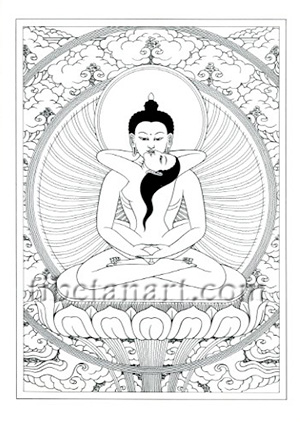 Format
Size
Price
Availability
Notecard + Envelope Set
7 x 5 inches


(178 x 127 mm)

£5.95
Currently in stock
Samantabhadra :
A set of thirteen B/W notecards drawn by Robert Beer that depict some important lineage masters from the Indo-Tibetan Buddhist traditions. These notecards come with envelopes, and are machine creased so they can be coloured with fine-line pens, crayons or paint before folding. Each card has a short biography of the lineage holder or guru depicted.

Samantabhadra (Tib. Kuntuzangpo), the 'All Good', is the primordial Adibuddha of the Tibetan Nyingma School. His manifestation as a naked and unadorned blue Buddha represents the primordial essence of the dharmakaya. He embraces his consort Samantabhadri (Tib. Kuntuzangmo), who is white in colour.
© text by Robert Beer