Welcome to Tibetan Art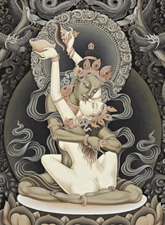 Welcome to tibetanart.com - the website of the British artist, author and scholar Robert Beer, who has studied and practiced Tibetan Art for the past forty years. In recent years he has worked closely with the finest Newar artists and Tibetan thangka painters of the Kathmandu Valley to assemble a unique and extensive collection of the finest contemporary Tibetan and Newar paintings of Buddhist and Hindu deities.
The main purpose of this site is to display the incredible skills of these individual artists by making many of their original paintings available as fine-art Giclee Prints, all of which are meticulously accurate in their iconography and detail. Each painting has a detailed description written by Robert Beer, who is working in association with Wisdom Books to produce these archival prints. Also exhibited on this website are some of the the exquisite visionary paintings and mandalas of John Miles. So essentially it is the artists themselves who are represented here, for they are truly some of the most visionary, innovative and divinely inspired painters of our time.
News from tibetanart.com
Twelve New Tibetan Giclee Prints (April 2015)
Recently I've added twelve new Tibetan Giclee Prints to this website, which now appear in the 'New Tibetan Prints – 2015' and the 'Gold on Black Thangkas' galleries. Nine of these prints are gold-on-black thangkas that mainly belong to the Karma Kagyu and the Nyingma Dudjom Tersar traditions.
Featured Art