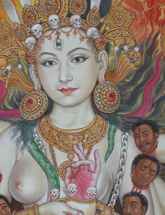 Welcome to tibetanart.com - the website of the British artist and author Robert Beer, who first began to study and practice Tibetan Art in 1970. Showcased in galleries are masterpieces of Tibetan Buddhist and Hindu Tantric art painted by the finest contemporary thangka painters and Newar artists of the Kathmandu Valley.
The main purpose of this site is to reveal the incredible skills of these artists by making their original works available as fine-art Giclee Prints, which are all meticulously accurate in their iconography, colour fidelity and detail. Each painting has a precise description written by Robert Beer, who is working with a master printer to individually produce these archival prints. Also exhibited are the exquisite visionary paintings and mandalas of John F B Miles, along with other deity prints and postcards. Essentially the artists themselves are represented here as some of the most spiritual and divinely inspired painters of our time.
News from tibetanart.com
December 9th. 2017 – More News on Giclee Prints.
We are currently restructuring this website to make it compatible with mobile phones and tablets, as the large image files in its 'Click to Enlarge' Zoom function can at present only be viewed properly on desktop or laptop computers. However, this work doesn't interfere with viewing and ordering through this site, and hopefully may be completed within the next few weeks.
Featured Art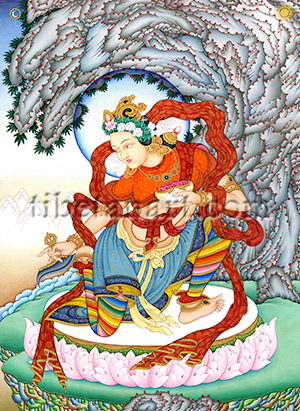 Yeshe Tsogyal
Yeshe Tsogyal (circa 757 to 817-837), meaning the 'Wisdom Lake Queen', was the foremost Tibetan disciple of Guru Rinpoche (Padmasambhava), and the most important of his five main consorts. She is regarded as a manifestation of the goddesses Sarasvati, Vajravarahi, Locana, and Tara, who would later incarnate as Machig Labdron (1055-1149). The level of Yeshe Tsogyal's final realization was considered to be equal to that of Guru Rinpoche himself.
Artist : Robert Beer & Studio of Marc Baudin
Price From : £30.00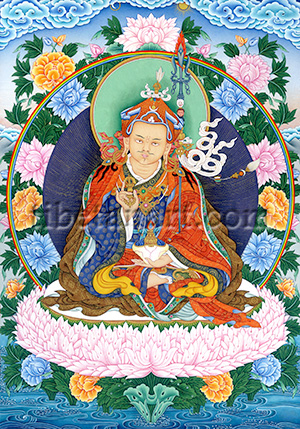 Guru Rinpoche (Padmasambhava)
Padmasambhava or Padmakara (Tib. Pema-jungne), meaning the 'Lotus-born', is the principal aspect of Guru Rinpoche, the 'Precious Guru' from Oddiyana in Western India, who is credited with introducing Vajrayana Buddhism into Tibet during the eighth century. Because of his miraculous activities he is widely recognized as the 'Second Buddha' within all schools of Tibetan Buddhism.
Artist : Robert Beer & Studio of Marc Baudin
Price From : £30.00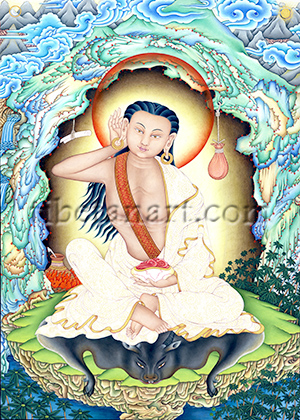 Milarepa
Jetsun Milarepa (circa 1040-1123), the 'Cotton clad' yogin, is one of the most famous and beloved poet-practitioners of Tibet. His biography and the collection of his 'hundred-thousand' songs of realization exemplify the ultimate aspiration of an ascetic life lived with intense religious devotion and practice.
Artist : Robert Beer & Studio of Marc Baudin
Price From : £30.00