Welcome to Tibetan Art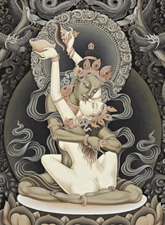 Welcome to tibetanart.com - the website of the British artist, author and scholar Robert Beer, who has studied and practiced Tibetan Art for the past forty years. In recent years he has worked closely with the finest Newar artists and Tibetan thangka painters of the Kathmandu Valley to assemble a unique and extensive collection of the finest contemporary Tibetan and Newar paintings of Buddhist and Hindu deities.
The main purpose of this site is to display the incredible skills of these individual artists by making many of their original paintings available as fine-art Giclee Prints, all of which are meticulously accurate in their iconography and detail. Each painting has a detailed description written by Robert Beer, who is working in association with Wisdom Books to produce these archival prints. Also exhibited on this website are some of the the exquisite visionary paintings and mandalas of John Miles. So essentially it is the artists themselves who are represented here, for they are truly some of the most visionary, innovative and divinely inspired painters of our time.
News from tibetanart.com
Buddhist Art Coloring Books 1 and 2 (Feb 2016)
In January the first of my two "Buddhist Art Coloring Books" was released in the UK and USA, while the second book is due to be released in the UK on Feb 20th, and in the USA on Feb 16th. Both books are published by Shambhala Publications and can be ordered directly from Wisdom Books. The second "Buddhist Art Coloring Book" has many previously unpublished drawings on Indo-Tibetan teachers and lineage holders. So I hope people will enjoy them!
Featured Art