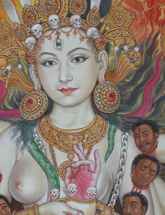 Welcome to tibetanart.com - the website of the British artist and author Robert Beer, who first began to study and practice Tibetan Art in 1970. Showcased in galleries are masterpieces of Tibetan Buddhist and Hindu Tantric art painted by the finest contemporary thangka painters and Newar artists of the Kathmandu Valley.
The main purpose of this site is to reveal the incredible skills of these artists by making their original works available as fine-art Giclee Prints, which are all meticulously accurate in their iconography, colour fidelity and detail. Each painting has a precise description written by Robert Beer, who is working with a master printer to individually produce these archival prints. Also exhibited are the exquisite visionary paintings and mandalas of John F B Miles, along with other deity prints and postcards. Essentially the artists themselves are represented here as some of the most spiritual and divinely inspired painters of our time.
News from tibetanart.com
May 7th. 2017 – New Giclee Prints Now Available.
I've now added thirty-two new Giclee Prints to this website, twenty-one in the "New Gold on Black" and "New Tibetan Prints" galleries, and eleven in "New Newar Prints 2017" gallery. And when more of these descriptive deity texts are written I plan to make quite a few other new prints available over the next months, including some of my own paintings.
Featured Art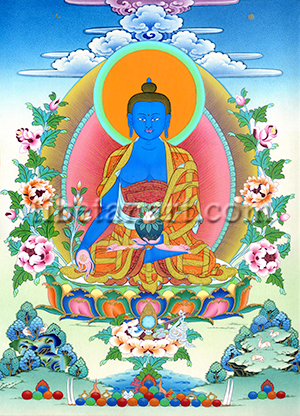 The Medicine Buddha
The Medicine Buddha (Tib. Sangye Menla), or 'Medicine Guru' (Skt. Bhaishajyaguru), is also known in Sanskrit as the "King of Vaidurya Light" (Vaidurya-prabha-raja), with vaidurya being the blue-beryl or aquamarine gemstone. This relates to the bright blue light rays that emanate from his body that dispel the darkness of the 'three poisons' of ignorance, desire, and aversion, which are the causes of imbalances in the three corresponding humors (Skt. dosha) of phlegm, bile, and wind. Bhaisajyaguru is also recognized as the aspect that Shakyamuni Buddha assumed in order to reveal the medical tantras, and his meditation practices are performed to cure physical diseases, alleviate mental and emotional disorders, and eliminate the obstacles to health, happiness, longevity and harmony.
Artist : Sunlal Ratna Tamang
Price From : £28.00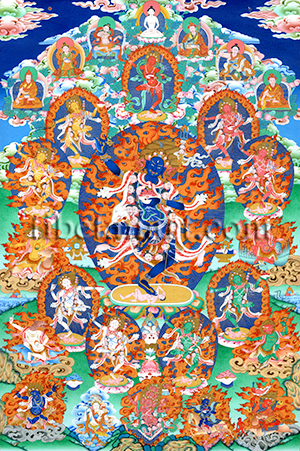 Troma Nagmo (Dudjom Troma)
The dynamic figure of Troma Nagmo (Tib. khros ma nag mo), the 'Wrathful Black One' (Skt. Krishna Kali, Krishna Krodhini), dominates the centre of this composition. She is an extremely fierce form of Vajrayogini, youthful and lusty like a sixteen-year-old, and black in colour like the darkness at the end of time. With her right leg drawn up and her left leg bent in 'bow-and-arrow' posture, she dances upon the golden sun and white moon disc of her lotus throne, with her left foot pressing on the breasts and heart of a naked human corpse.
Artist : Sunlal Ratna Tamang
Price From : £28.00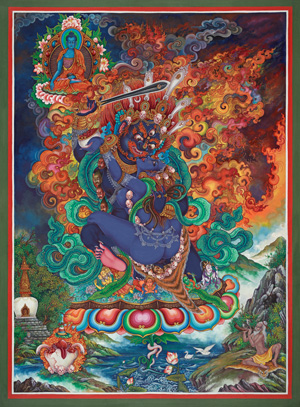 Chandamaharoshana
Chandamaharoshana, meaning the "Extremely Violent and Wrathful One", is a ferocious aspect of blue Akshobhya Buddha, who is also known as Achala. The Chandamaharoshana Tantra is an Anuttarayoga or 'Supreme Yoga' practice of the 'father-tantra' class, which emphasizes the development of 'method' or skillful means. Of early India origin this Tantra is explicit in the 'twilight-language' of its highly esoteric sexual symbolism, and its practice remains popular in the Newar Buddhist tradition. This visionary Newar paubha painting by Raj Prakash Tuladhar is the second version of a similar Chandamaharoshana composition that he made in 2002, which is now housed in the collection of the Rubin Museum of Art in New York.
Artist : Raj Prakash Tuladhar
Price From : £30.00