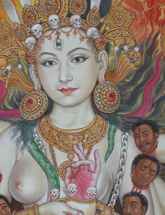 Welcome to tibetanart.com - the website of the British artist and author Robert Beer, who first began to study and practice Tibetan Art in 1970. Showcased in galleries are masterpieces of Tibetan Buddhist and Hindu Tantric art painted by the finest contemporary thangka painters and Newar artists of the Kathmandu Valley.
The main purpose of this site is to reveal the incredible skills of these artists by making their original works available as fine-art Giclee Prints, which are all meticulously accurate in their iconography, colour fidelity and detail. Each painting has a precise description written by Robert Beer, who is working with a master printer to individually produce these archival prints. Also exhibited are the exquisite visionary paintings and mandalas of John F B Miles, along with other deity prints and postcards. Essentially the artists themselves are represented here as some of the most spiritual and divinely inspired painters of our time.
News from tibetanart.com
March 2019 - Viewing images in hi-res Zoon function.
All the images displayed in the Tibetan Art, Newar Tantric Art, and John Miles Art Galleries, can be individually viewed in larger-than-life formats by first clicking on the red 'View Details' tab that appears under each brief three- or four-line description. This brings up a larger image with the sizes and prices of Giclee prints available, along with a written description of the painting.
Featured Art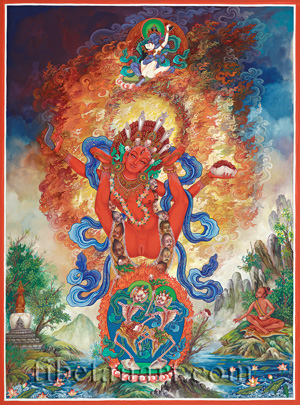 Red Sukhasiddhi (Khechari)
This painting shows the secret dakini aspect of Vajrayogini as Red Khechari, whose practice is associated with the great eleventh century Indian yogini, Sukhasiddhi. Niguma and Sukhasiddhi were the two yogini teachers of the Tibetan master Khyungpo Naljor (10th-12th century), the founder of the Shangpa Kagyu tradition, who considered Sukhasiddhi to be both his kindest teacher and his secret consort. The Shangpa Kagyu lineage is renowned for its unique Highest Yoga Tantra doctrines, known as 'The Six Doctrines of Sukhasiddhi' and 'The Six Doctrines of Niguma'.
Artist : Raj Prakash Tuladhar
Price From : £30.00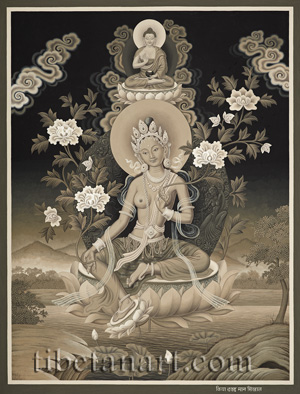 B/W Seated Green Tara (Sepia)
This beautiful sepia painting by Devendra Man Sinkhwal shows Green Tara seated in her traditional posture of royal-ease upon the white moon disc of her lotus seat, with her left leg drawn up and her extended right foot resting upon the moon disc of a small lotus pedestal. Both of these lotuses arise from the rippling waters of a lotus-lake, which has a solitary acacia tree growing upon its right bank, many bushes on its far bank, and distant hills in the background.
Artist : Devendra Man Sinkhwal
Price From : £30.00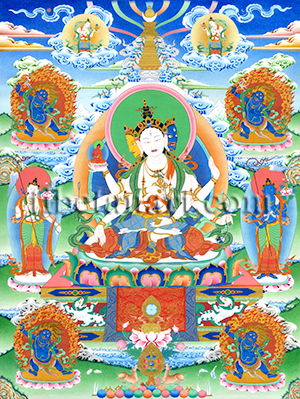 Usnisavijaya Nine-Deity Assembly
Usnisavijaya, meaning the "Victorious one (Skt. vijaya) with a Crown Protuberance (Skt. usnisa)", is a female long-life deity who manifests as an embodiment of enlightenment from the protuberance or usnisa that crowns the Buddha's head. Her main function is to bestow the realization of immortality by eliminating the hindrances to a long life, and purifying the defilements of body, speech and mind. She is known in Tibetan as Tsugtor Namgyalma (Tib. gtsug gtor rnam rgyal ma), and along with Amitayus and White Tara is one of the great three longevity deities who commonly appear in a trinity. Printed prayers and small clay images (Tib. tsha-tsha) of this goddess, either alone or in her trinity, are commonly enshrined inside Buddhist stupas.
Artist : Sunlal Ratna Tamang
Price From : £30.00