Welcome to Tibetan Art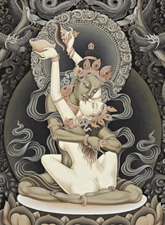 Welcome to tibetanart.com - the website of the British artist, author and scholar Robert Beer, who has studied and practiced Tibetan Art for the past forty years. In recent years he has worked closely with the finest Newar artists and Tibetan thangka painters of the Kathmandu Valley to assemble a unique and extensive collection of the finest contemporary Tibetan and Newar paintings of Buddhist and Hindu deities.
The main purpose of this site is to display the incredible skills of these individual artists by making many of their original paintings available as fine-art Giclee Prints, all of which are meticulously accurate in their iconography and detail. Each painting has a detailed description written by Robert Beer, who is working in association with Wisdom Books to produce these archival prints. Also exhibited on this website are some of the the exquisite visionary paintings and mandalas of John Miles. So essentially it is the artists themselves who are represented here, for they are truly some of the most visionary, innovative and divinely inspired painters of our time.
News from tibetanart.com
New Series of Giclee Prints, available soon.
September 2013. I am just in the process of writing the descriptive texts for fifteen new Giclee prints that will be available in late October. These include four complex Tibetan thangkas by Sunlal Ratna Tamang, three of which are accurate copies of masterpieces from the Potala Palace in Lhasa. These new Giclee Print images are:
Featured Art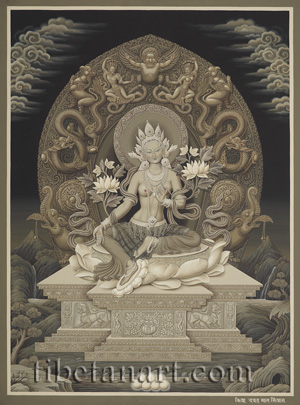 B/W Green Tara Enthroned
Green Arya Tara sits gracefully upon her moon disc, lotus seat and enlightenment throne in her traditional posture of royal ease. She has the youthful body of a sixteen-year-old, a sweetly smiling face, and all of her silk garments and jewel ornaments are meticulously painted. The minute form of Amoghasiddhi Buddha, barely larger than the pupil of her eye, crowns the top of her tiara's central jewel. The serpent-devouring face of kirtimukha is embellished on her neck choker, and a tiny square pendant bearing her own minute form hangs from a filigree chain between her breasts. Each decorative element of her jewellery is individually shaded, with a skilful use of background shadows creating a vivid impression of luminosity upon her pearls and finely embossed metal ornaments.
Artist : Devendra Man Sinkhwal
Price From : £70.00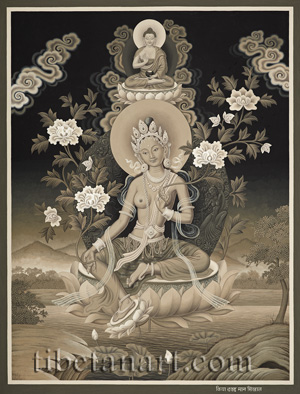 B/W Seated Green Tara
This beautiful sepia painting by Devendra Man Sinkhwal shows Green Tara seated in her traditional posture of royal-ease upon the white moon disc of her lotus seat, with her left leg drawn up and her extended right foot resting upon the moon disc of a small lotus pedestal. Both of these lotuses arise from the rippling waters of a lotus-lake, which has a solitary acacia tree growing upon its right bank, many bushes on its far bank, and distant hills in the background.
Artist : Devendra Man Sinkhwal
Price From : £65.00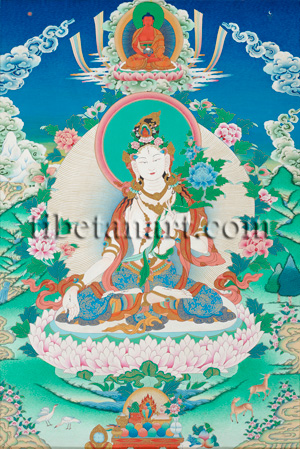 White Tara (Wish-Fulfilling Wheel)
White Tara (Skt. Sita Tara: Tib. Drol-kar) is the long-life aspect of the female saviouress Tara, the most popular Buddhist goddess of mercy and compassion. In her white longevity aspect she is also known as Saptalocana Tara, or 'seven-eyed' Tara, and as an important yidam or meditational deity in her own right she is know as 'Wish-fulfilling Wheel White Tara' (Skt. Chinta-chakra Sita Tara), which is the form in which she appears here. As one of the three principal Buddhist longevity deities White Tara also frequently appears in a trinity with Amitayus and Ushnishavijaya. Her meditational practices are mainly employed to confer long-life, alleviate illnesses, and to remove the obstacles that are indicative of an untimely death. Thangkas of White Tara and the 'Trinity of Long-Life Deities' are frequently commissioned for such purposes, or to auger an auspicious rebirth for a deceased relative or friend.
Artist : Sunlal Ratna Tamang
Price From : £65.00