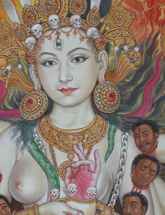 Welcome to tibetanart.com - the website of the British artist and author Robert Beer, who first began to study and practice Tibetan Art in 1970. Showcased in galleries are masterpieces of Tibetan Buddhist and Hindu Tantric art painted by the finest contemporary thangka painters and Newar artists of the Kathmandu Valley.
The main purpose of this site is to reveal the incredible skills of these artists by making their original works available as fine-art Giclee Prints, which are all meticulously accurate in their iconography, colour fidelity and detail. Each painting has a precise description written by Robert Beer, who is working with a master printer to individually produce these archival prints. Also exhibited are the exquisite visionary paintings and mandalas of John F B Miles, along with other deity prints and postcards. Essentially the artists themselves are represented here as some of the most spiritual and divinely inspired painters of our time.
News from tibetanart.com
September 24th. 2017 – More Info on new Giclee Prints etc.
Sales of our Giclee Prints keep increasing, especially those in A4, A3 and A3+ sizes. These are the print sizes I now make myself, after having often spent considerable time digitally improving each image file. The smaller A4 and A4 Mounted sizes work well for single deity compositions, and the two A3 sizes for more complex images, with the MEDIUM and LARGE size prints being better for the most complex deity compositions, such as Mandalas, Refuge Trees, Lineage thangkas, etc.
Featured Art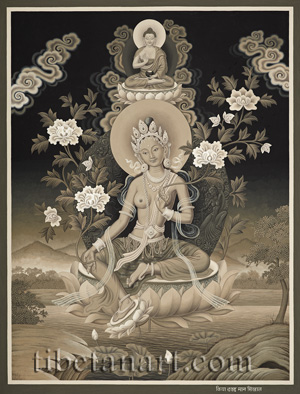 B/W Seated Green Tara (Sepia)
This beautiful sepia painting by Devendra Man Sinkhwal shows Green Tara seated in her traditional posture of royal-ease upon the white moon disc of her lotus seat, with her left leg drawn up and her extended right foot resting upon the moon disc of a small lotus pedestal. Both of these lotuses arise from the rippling waters of a lotus-lake, which has a solitary acacia tree growing upon its right bank, many bushes on its far bank, and distant hills in the background.
Artist : Devendra Man Sinkhwal
Price From : £30.00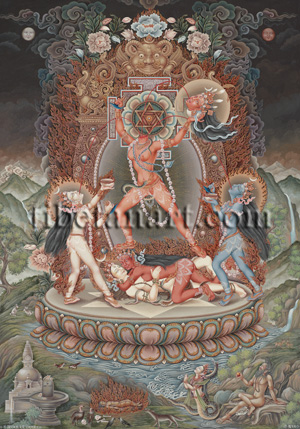 Mahavidya Chinnamasta
Chinnamasta or Chinnamunda, the 'Severed Head or Decapitated' goddess, is the third of the ten 'Great Knowledge' or Mahavidya goddesses. Collectively these ten mahavidyas represent the specific manifestations of the 'great goddess' Devi or Durga, who assumed these powerful aspects in order to pacify, subjugate or destroy some of the most potent and malevolent forces in the universe. Of these ten goddesses Chinnamasta is the most terrifying and disturbing in appearance. The original design for this composition was made by the brilliant Newar artist Udaya Charan Shrestha, and this painted version was made by Sundar Sinkwal.
Artist : Sundar Sinkhwal
Price From : £30.00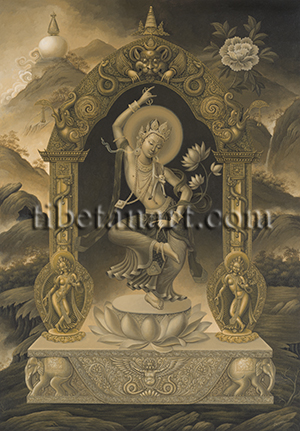 Vajranatha Lokeshvara (Acrylic)
Vajranatha, meaning the 'Vajra-Lord', appears as one of the hundred-and-eight manifestations of Avalokiteshvara in the Newar Buddhist pantheon. He stands gracefully in triple-bend posture (Skt. tribhanga) as he dances upon the moon disc of an immaculate open lotus, with his right foot drawn up and his left leg extended. Vajranatha is blue in colour, beautiful and serene, with two bow-shaped eyes and a sweetly smiling face. He wears divine silk garments on his lower body, with a long billowing silk scarf draped around his upper body, and Lokeshvara's deer-skin emblem is draped over his left shoulder.
Artist : Devendra Man Sinkhwal
Price From : £30.00