Saturday 21st May 1983
Posted by Robert Beer on 7/29/2010 10:56:33 PM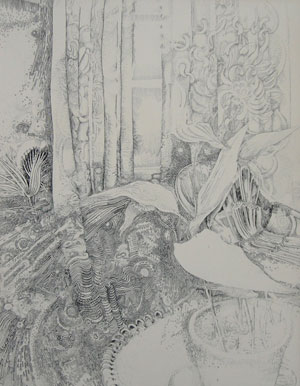 Woke with a shock. Exhausted - heavy sleep, then:

I am Cherry, she is me. The incredible high she has is because we are the same person. It is a vision of God. As I had the realization I suddenly feared for my sanity, and, simultaneously into the pain flashed thoughts of primitive people who see insanity as very God given indeed. No wonder.

The vision and realization of God, suddenly seeing him, each living entity in a way being a molecule of his body is more than breathtaking. It is very spectacular being trapped in our skull as a supposed individual entity, when suddenly with Road to Damascus intensity "I am the Flesh" becomes real.

Part of me still thinks that this knowledge is improper to grasp within life on Earth. I fear being ready now to move on to the 'afterlife', as I want a lot more time on Earth. Have I seen something forbidden? I am frightened for myself, although deep down under the panic is the remembrance of the vision I had when a boy of about eight or nine years.

Lying in bed, alone, frightened of the dark. Mother out working, not yet back. Pulled the bedclothes more over me for sanctuary, safety. Still it came, creeping towards me, the monster, the darkness, I could not put form to the 'fear entity', yet still it came near threatening. It would get me. It would hurt me.

Then I suddenly realized it could not hurt me, for I was not a twig in the stream, I was part of the stream itself. I was the living force. For a moment my ego, my individuality, dissolved and I had a synaesthetic awareness of seeing God. The Life Force had given me eyes to see itself.



Later in the evening a group of us go out drinking. I stay on with Harry, Connie and Sarah, drinking and listening to music. Sarah drinks no alcohol.
I invite them back to see my paintings after giving me a lift home. "Come in for coffee and see The Spirit of Totnes."

Sarah tires of my drunken witticisms in the car. She tries to excuse herself from coming in for coffee, wanting to be dropped off as she lives nearby. I suck my breath in and say, "Please come in just for five minutes, and glance at a year's work". Her father supports this.
They come in. I make them tea and Connie a coffee. Still they are hostile. Connie trying to charm them with my charm. Trying to introduce me as the seer, the prophet, and the master!!!!!
Suddenly they have their breath taken away. They realise they are looking at something special. 'The big-headed self-centred shit that sells himself crudely and overzealously can perform gentle magic'.
Sarah says, "Just to think there is all that rubbish in the Tate and here in Torquay there are paintings like this!"
The comment makes me glow, but soon they have gone.