Avalokiteshvara Forms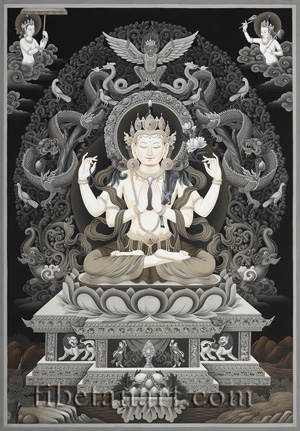 Price From : £28.00
In this beautiful black and white painting by Shuka Raj Tamang, Avalokiteshvara is shown in his four-armed form, or 'Six-syllable' (Skt. sadaksari) aspect, which relates to his famous six-syllable mantra: OM MA-NI PA-DME-HUM. Lokeshvara sits gracefully in vajra-posture upon a white...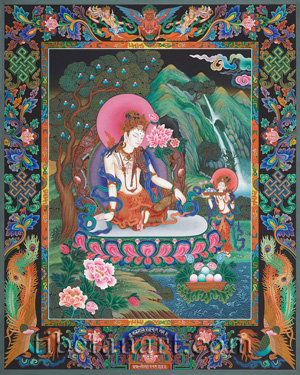 Price From : £28.00
This beautiful composition of Khasarpana Lokeshvara was painted in 2002 by Dinesh Charan Shrestha, who now works and teaches in Berkeley, California. Khasarpana, meaning 'air-gliding', is one of the two-armed manifestations of the bodhisattva Avalokiteshvara or Mahakarunika, the 'great...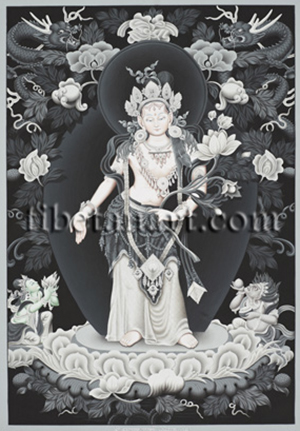 Price From : £28.00
This black and white painting of Avalokiteshvara as Padmapani, meaning the 'Lotus in Hand', is a copy of a famous composition made by the legendary Newar artist, Anandamuni Shakya, in the early1940's, which hung in the old royal palace of Hanuman Doka in Kathmandu's Durbar Square. Anandamuni was...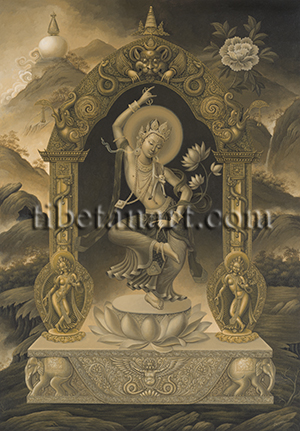 Price From : £30.00
Vajranatha, meaning the 'Vajra-Lord', appears as one of the hundred-and-eight manifestations of Avalokiteshvara in the Newar Buddhist pantheon. He stands gracefully in triple-bend posture (Skt. tribhanga) as he dances upon the moon disc of an immaculate open lotus, with his right foot drawn...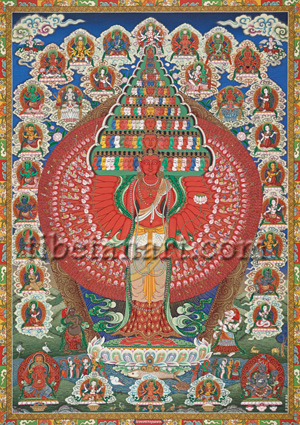 Price From : £54.00
This complex painting by the Newar artist Raju Shakya depicts Red Avalokiteshvara in his thousand-armed and hundred and twenty-one headed form as Sristhikanta Lokeshvara. This is an extremely rare form of this Bodhisattva of Great Compassion, which to my knowledge has only ever been painted several...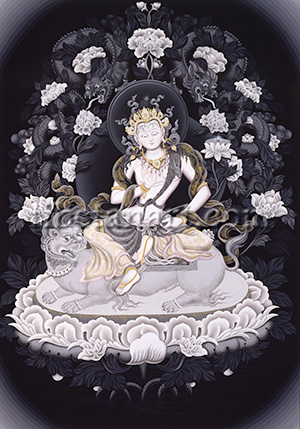 Price From : £30.00
Harivahana, meaning 'Lion-mounted' or 'Lion-vehicle (Skt. vahana)' Lokeshvara, appears as one of the hundred-and-eight different manifestations of Avalokiteshvara, the bodhisattva of great compassion, in the Newar Buddhist tradition. He is peaceful, youthful and ruby-red in colour...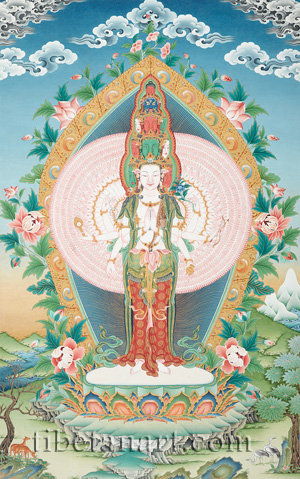 Price From : £28.00
Avalokiteshvara, the 'Beholding Lord', is the Bodhisattva of Compassion and the patron deity of Tibet, who appears here in this painting by Mangal Lama in his eleven-faced and thousand-armed form. According to legend Avalokiteshvara once vowed that he would first free all beings from suffering...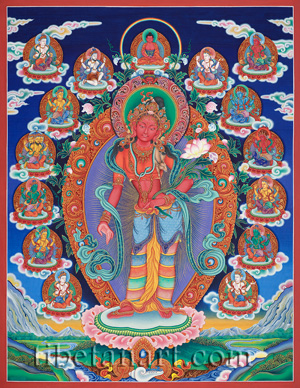 Price From : £28.00
This painting by Kiran Joshi is based upon an original composition by Siddhimuni Shakya, and shows Sristhikanta Lokeshvara, the 'Glorious Creator, Lord of the World', surrounded by fourteen of the great Brahmanic deities that he has manifested from various parts of his body. Sristhikanta is...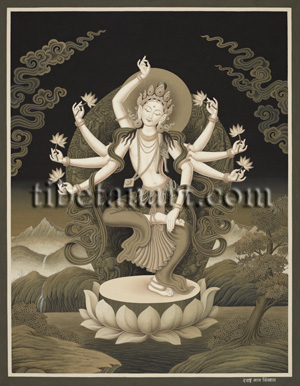 Price From : £28.00
Padma Nrityanath, or Padma Narteshvara (Tib. Padma gar-gyi dbang phyug), meaning the 'Lotus Lord of the Dance', is a graceful aspect of Avalokiteshvara with one face and either two, eight, or eighteen arms. He appears here in this sepia composition in his white eight-armed aspect, as he...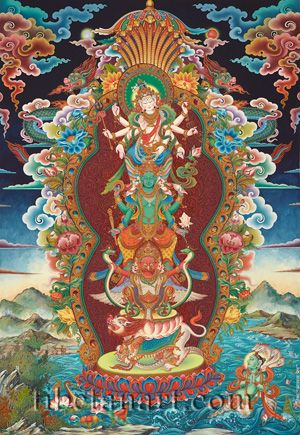 Price From : £28.00
Hari Hari Hari Vahana is a composite form of Avalokiteshvara who is shown sitting above Vishnu, Garuda (Vishnu's vehicle), a white lion (Lokeshvara's vehicle), and the great nagaraja or serpent-king, Takshaka. This unusual five-tiered manifestation of Lokeshvara is one of the most popular forms of...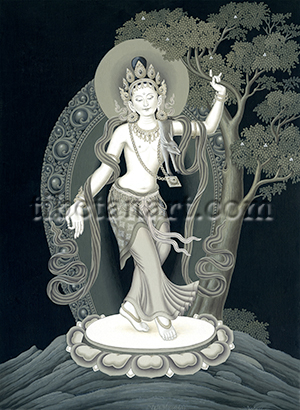 Price From : £28.00
Text to Follow ......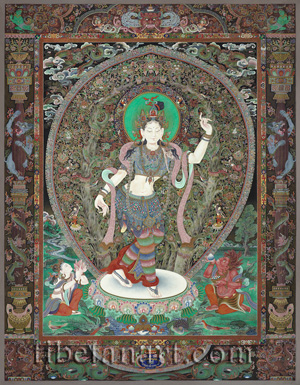 Price From : £210.00
This great masterpiece of Chintamani Lokeshvara was painted over a period of three years by the famous Newar artist Siddhimuni Shakya (1933-2001), and his son, Surendra Man Shakya (born 1967). Siddhimuni chose to devote the last ten years of his long painting career to the creation of three...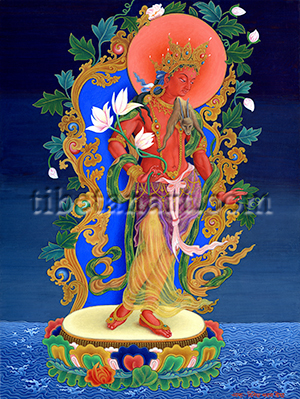 Price From : £28.00
Text to Follow ......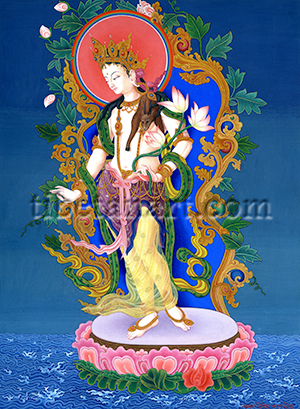 Price From : £28.00
Text to Follow ......
Showing 1 to 14 of 14 items sorted by Popularity